Death Café & Presentation: Returning Cremains to Nature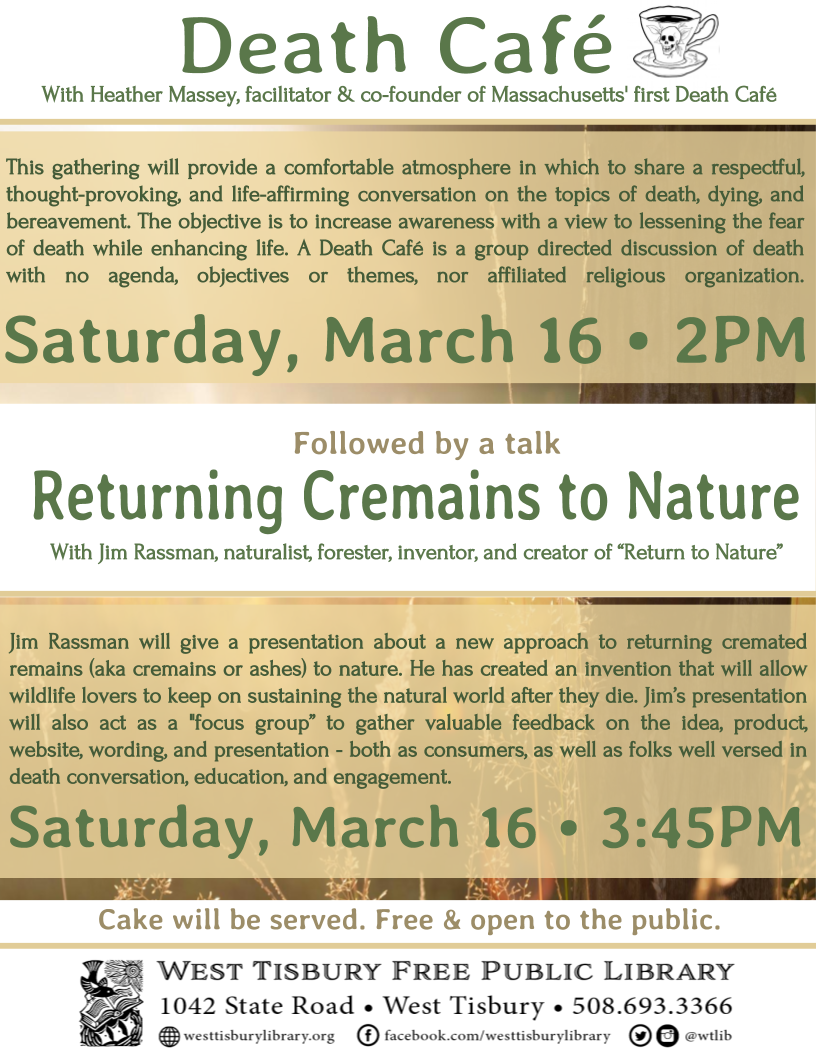 Death Café & Presentation: Returning Cremains to Nature
On Saturday, March 16 from 2-3:30pm, all are welcome to join us at the West Tisbury Library for our next Death Café hosted by Heather Massey, facilitator and co-founder of Massachusetts' first Death Café. This gathering will provide a comfortable atmosphere in which to share a respectful, thought-provoking, and life-affirming conversation on the topics of death, dying, and bereavement. Cake will be served.

Death Café is an international movement started in Europe to encourage people to talk about the taboo subject of death. The concept originated with Swiss sociologist Bernard Crettaz, who held Cafe Mortel events in Switzerland (and later in France) beginning in 2004. At these events, people came together in a relaxed, confidential and safe setting to discuss death. The idea was taken to the UK by John Underwood, and has since expanded into the U.S. and other countries around the world. The objective is to increase awareness with a view to lessening the fear of death while enhancing life. A Death Café is a group-directed discussion of death with no agenda, objectives or themes, nor affiliated religious organization. It is a discussion group rather than a grief support or counseling session. For more information, visit deathcafe.com.
Following the Death Café at 3:45pm, naturalist, forester, and inventor Jim Rassman will give a presentation about a new approach to returning cremated remains (aka cremains or ashes) to nature. He has created an invention that will allow wildlife lovers to keep on sustaining the natural world after they die. Jim's presentation will also act as a "focus group" to gather valuable feedback on the idea, product, website, wording, and presentation – both as consumers, as well as folks well versed in death conversation, education, and engagement.
Jim lives in Centerville, MA. He is an outdoorsman who works as the Stewardship Coordinator at the Waquoit Bay National Estuarine Research Reserve and has formed a company he calls "Return to Nature," which creates memorial items made by combining cremains with animal, fish, or plant food mixes. The composite is then pressed into block or disk forms, creating a memorial item that can be returned to forest, fields, and aquatic habitats where they will attract deer, birds, fish, and wildlife. For more information, please visit return-2-nature.com.
Both the Death Café and presentation are free and open to the public.