Death Café & Presentation: "Inspired Funerals, Lasting Legacies"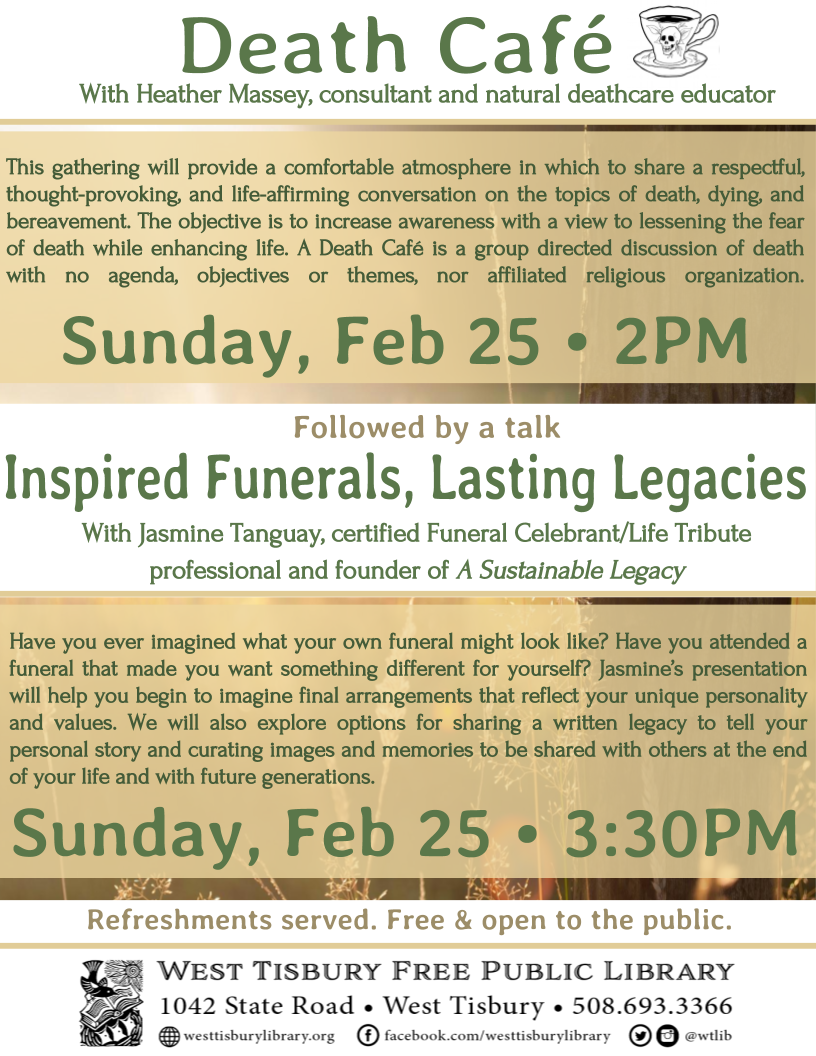 Death Café & Presentation: "Inspired Funerals, Lasting Legacies"
At the West Tisbury Library
On Sunday, February 25th from 2-3:30pm, you are welcome to join us at the West Tisbury Library for our next Death Café, hosted by Cape Cod Death Café co-founder Heather Massey. This gathering will provide a comfortable atmosphere in which to share a respectful, thought-provoking, and life-affirming conversation on the topics of death, dying, and bereavement.
Death Café is an international movement started in Europe to encourage people to talk about the taboo subject of death. The concept originated with Swiss sociologist Bernard Crettaz, who held Cafe Mortel events in Switzerland (and later in France) beginning in 2004. At these events, people came together in a relaxed, confidential and safe setting to discuss death. The idea was taken to the UK by John Underwood, and has since expanded into the U.S. and other countries around the world. The objective is to increase awareness with a view to lessening the fear of death while enhancing life. A Death Café is a group-directed discussion of death with no agenda, objectives or themes, nor affiliated religious organization. It is a discussion group rather than a grief support or counseling session. For more information, visit deathcafe.com.
Following the Death Café at 3:30pm, Jasmine Tanguay, certified Funeral Celebrant/Life Tribute professional and founder of A Sustainable Legacy will give a presentation titled "Inspired Funerals, Lasting Legacies: Thoughtful Choices for the End of Life." Have you ever imagined what your own funeral might look like? Have you attended a funeral that made you want something different for yourself? Jasmine's presentation will help you begin to imagine final arrangements that reflect your unique personality and values. We will also explore options for sharing a written legacy to tell your personal story and curating images and memories to be shared with others at the end of your life and with future generations.
Jasmine Tanguay is a certified funeral celebrant and Founder of A Sustainable Legacy, an organization helping people and families create inspired end-of-life plans that align with their values and honor the most meaningful parts of their lives. Jasmine also works holistically with clients to plan for a sustainable legacy, which also may include financial and emotional dimensions, in addition to what happens to their physical remains. She is a volunteer with the Funeral Consumers Alliance of Eastern Massachusetts and a member of the Natural Deathcare Collaborative.
Both the Death Café and presentation are free and open to the public.