Concert of Sacred Music: Greta Bro, Stan Strickland, Josh Rosen, & Akili Jamal Haynes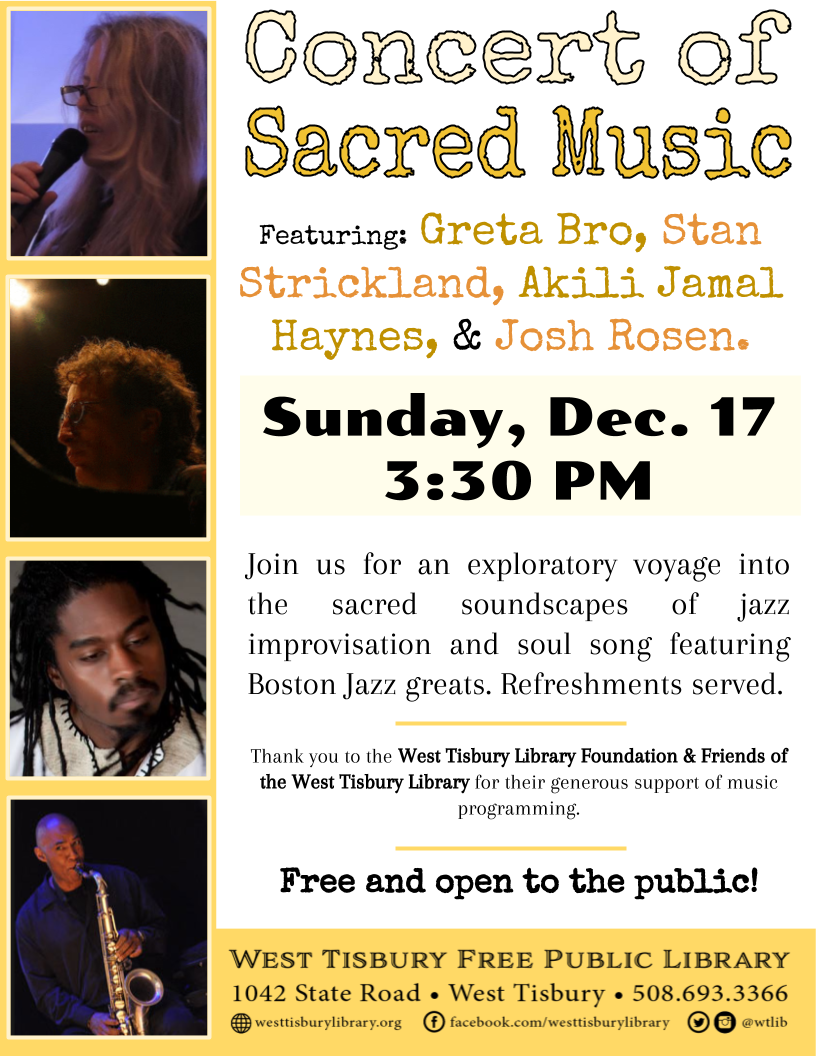 Concert of Sacred Music: Greta Bro, Stan Strickland, Josh Rosen, & Akili Jamal Haynes
On Sunday, December 17 at 3:30pm, the West Tisbury Library will host "Concert of Sacred Music." Join us for an exploratory voyage into the sacred soundscapes of jazz improvisation and soul song. This performance features Boston Jazz greats Stan Strickland on sax, flute and vocals, Josh Rosen on piano, Akili Jamal Haynes on bass, and Greta Bro on vocals. Refreshments will be served. This event is free and open to the public. Thank you to the West Tisbury Library Foundation and Friends of the West Tisbury Library for making this event possible.
Greta Bro is a vocalist, composer, sound healer and music therapist. Her lifelong involvement with the sacred and transformational properties of music is at the heart of her songwriting. Her independent CD, Love's Song, released in 2009, has been enthusiastically received by audiences across the US, Brazil, Great Britain, Sweden and France. The Boston Herald's Larry Katz wrote,"The unforced sincerity and soulfulness of Greta Bro's voice will touch you deep inside. Absolutely lovely."
Greta's original compositions draw on jazz and inspirational music from around the world, including Bossa Nova, Reggae, Hindustani, and Tibetan. Her lyrics explore the human condition with rare insight and compassion. Whether in small clubs or large festivals, college campuses, churches, synagogues or house concerts, Greta's intensely personal and inspiring performance style, soulful sound, and provocative lyrics have created a strong and lasting rapport with audiences in the US, Brazil and Europe.
Stan Strickland is an extraordinary saxophonist, vocalist, flautist, vocalist, and actor. His inspiring interactive and improvisational performances have thrilled American and international audiences including Europe, New Zealand, Scandinavia and the Caribbean.
He has performed with the Boston Pops, Take Six, Herbie Mann, Marlena Shaw, Pharaoh Sanders, Danilo Perez, and Yusef Lateef and has opened for Miles Davis and Sonny Rollins. He had leading roles in Boston Art Group, Northeastern University productions, and Vineyard Playhouse Productions, has performed and collaborated with choreographers including Alvin Ailey, José Limón and Bill T. Jones. He was profiled and featured along with Blair Underwood and Lamar Burton in the documentary film Black Man Up, performed at the Sundance Film Festival, and at Solstice Sing For Peace. Stan also has a M.A. degree in Expressive Arts Therapy from Lesley College, where he is an adjunct professor, and also teaches at Berklee College of Music, Tufts University, and Longy School of Music. He is co-executive Director of "Express Yourself", working in partnership with adolescents in public mental health residential facilities to produce multimedia performances.
Josh Rosen is an extraordinary pianist and prolific composer. He has released four albums American Waltz, Instinct, Brothers, and Sparks, which was recently nominated for best Jazz Album at the 2018 Grammys. He plays in numerous ensembles and is a professor of piano and ensembles at Berkeley College of Music.
Akili Jamal Haynes is a composer and multi-instrumentalist who began his career at age 15 as a trombonist under the mentorship of Wynton Marsalis. Three years later, he was touring with Illinois Jacquet's Big Band. He currently performs with several ensembles and has participated on several recordings as a trombonist, composer, trumpeter, keyboardist, vocalist, tenor saxophonist, alto saxophonist, bass clarinetist, and acoustic bassist. Akili has been a faculty member of the New England Conservatory of Music's Preparatory & Continuing Education School for more than 14 years and is also guest percussion faculty and bass accompanist at Berklee College of Music in Boston.