Concert: David Rhoderick and Friends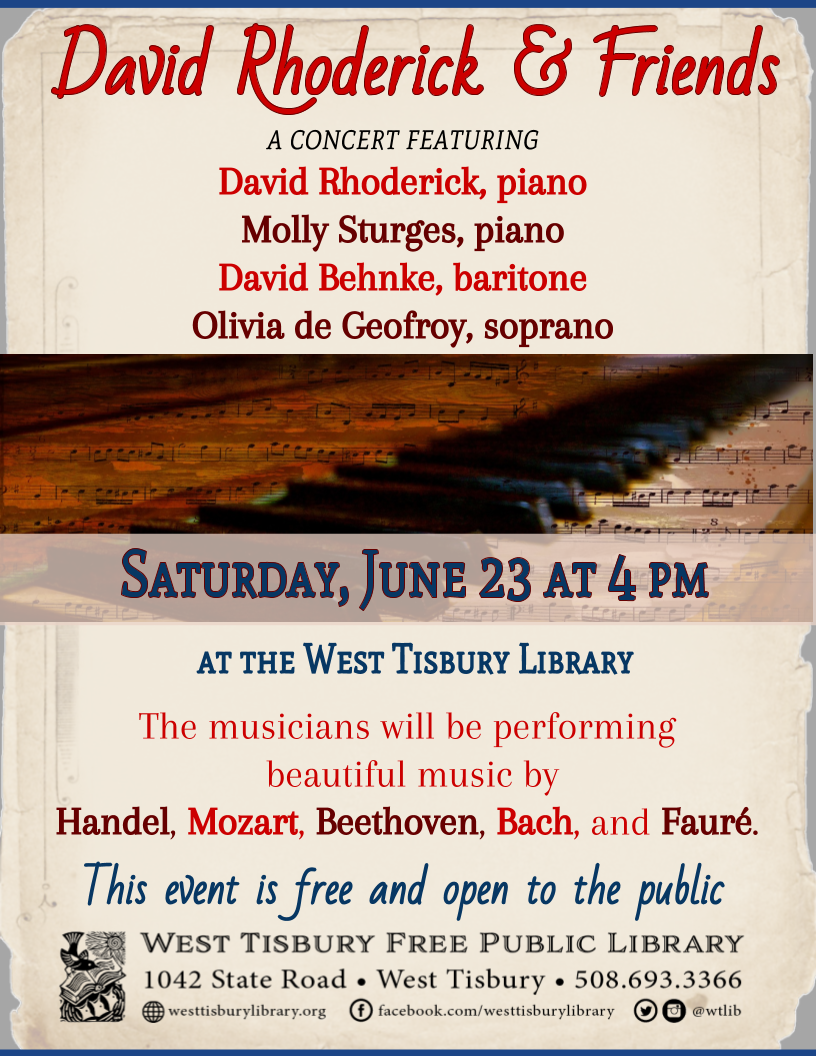 David Rhoderick and Friends
A Concert at the West Tisbury Library
On Saturday, June 23 at 4pm, all are invited to the West Tisbury Library for a concert featuring pianist David Rhoderick, pianist Molly Sturges, baritone David Behnke, and soprano Olivia de Geofroy. The musicians will perform beautiful music by Handel, Mozart, Beethoven, Bach, and Fauré. Refreshments will be served. This concert is free and open to the public.
David Rhoderick is a Fellow of the Royal Schools of Music. He studied organ at Glasgow University and then went on to Clare College at Cambridge University. He has studied piano with David Lloyd, organ with Dame Gillian Wier, and conducting with Sir Adrian Boult. On Martha's Vineyard he has held positions as Music Director at several churches and is an active concert performer.
Molly Sturges, a graduate of the University of Notre Dame, is a freelance musician and accompanist to many island and off-island organizations. She has performed regularly as keyboardist for the Goodspeed Opera House in CT since 2001. Following her full time move to Martha's Vineyard, she has been very active in the island musical community.
David Behnke graduated from the Yale School of Music opera program and received a fellowship to the Paris Conservatory. He has performed with the Tri Cities Opera, music festivals across NE and was a winner of the Boston Opera Company Young Artist Auditions. After a brief 35-year hiatus on Wall Street, he is once again performing regularly in repertoire ranging from opera to lieder to oratorio to Broadway.
Olivia de Geofroy is a soprano, violinist, and music educator. Her most recent projects include performances with the Westminster Symphonic Choir and the Princeton University Sinfonia, and a lecture recital on La chanson d'Ève of Gabriel Fauré. She holds a bachelor of music in education and a master of arts in teaching from Westminster Choir College.