Clair de Lune: Music of Debussy, Fauré & Hahn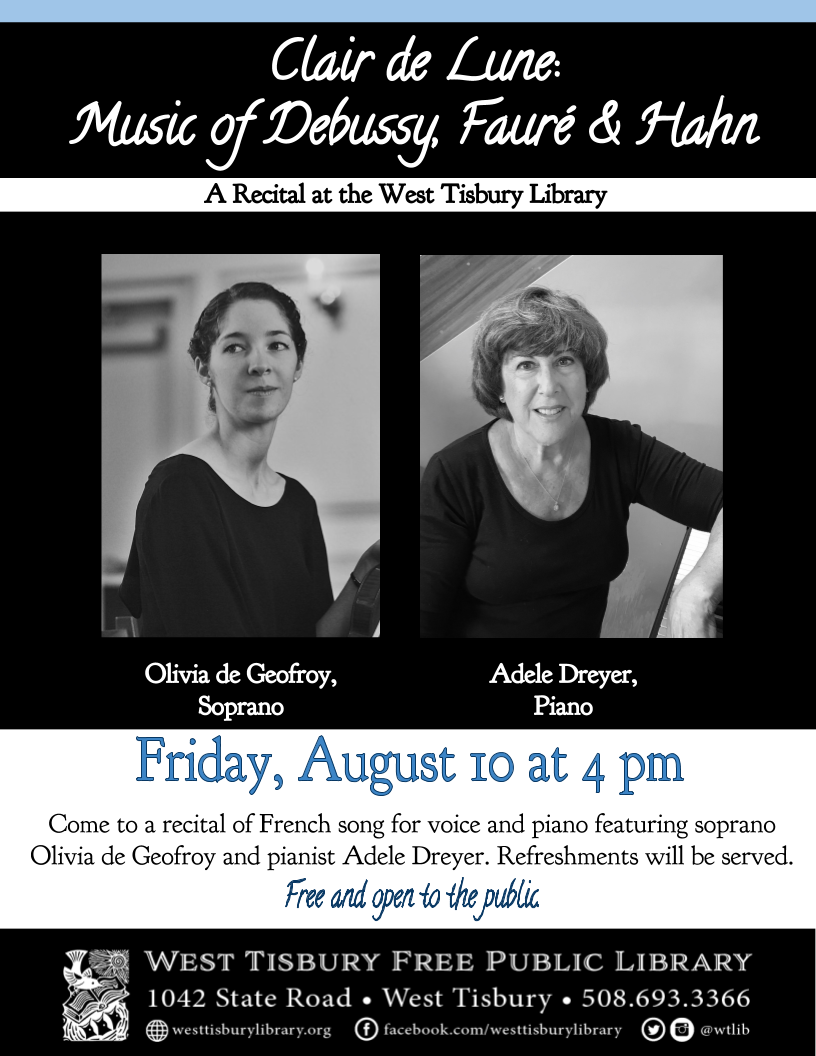 Clair de Lune: Music of Debussy, Fauré & Hahn
Friday, August 10 at 4:00 pm, the West Tisbury Library will host a recital of French song for voice and piano featuring soprano Olivia de Geofroy and pianist Adele Dreyer. Refreshments will be served. This event is free and open to the public.
Olivia de Geofroy is a soprano, violinist, and music educator. Her most recent projects include performances with the Westminster Symphonic Choir and the Princeton University Sinfonia, and a lecture recital on La Chanson d'Ève of Gabriel Fauré. She holds a bachelor of music in education and a master of arts in teaching from Westminster Choir College.
Six years ago, Adele Dreyer closed her large private teaching studio in suburban Boston, and moved full-time to the Vineyard. An honorary member of the New England Piano Teachers' Association, she has given workshops to the teachers on pedagogy, improvisation, the use of computer technology in a piano lab, and talks to groups on subjects such as "Why Not the Key of C?" and "What Composers Do for your Listening Pleasure." Last year Adele played the piano transcription for the concert presentation of "South Pacific" (ITW) at the Whaling Church. She enjoys playing for functions, such as the recent Donors' Breakfast at the Vineyard Playhouse with American Songbook improvisations, entertaining Seniors, teaching adults, and of course, collaborating with serious musicians of all stripes!