FULL! Celebrating Community & Choice: A Conversation with Atul Gawande Simulcast
EVENT FULL!
Celebrating Community & Choice: A Conversation with Atul Gawande
A Live Simulcast Event at the West Tisbury Library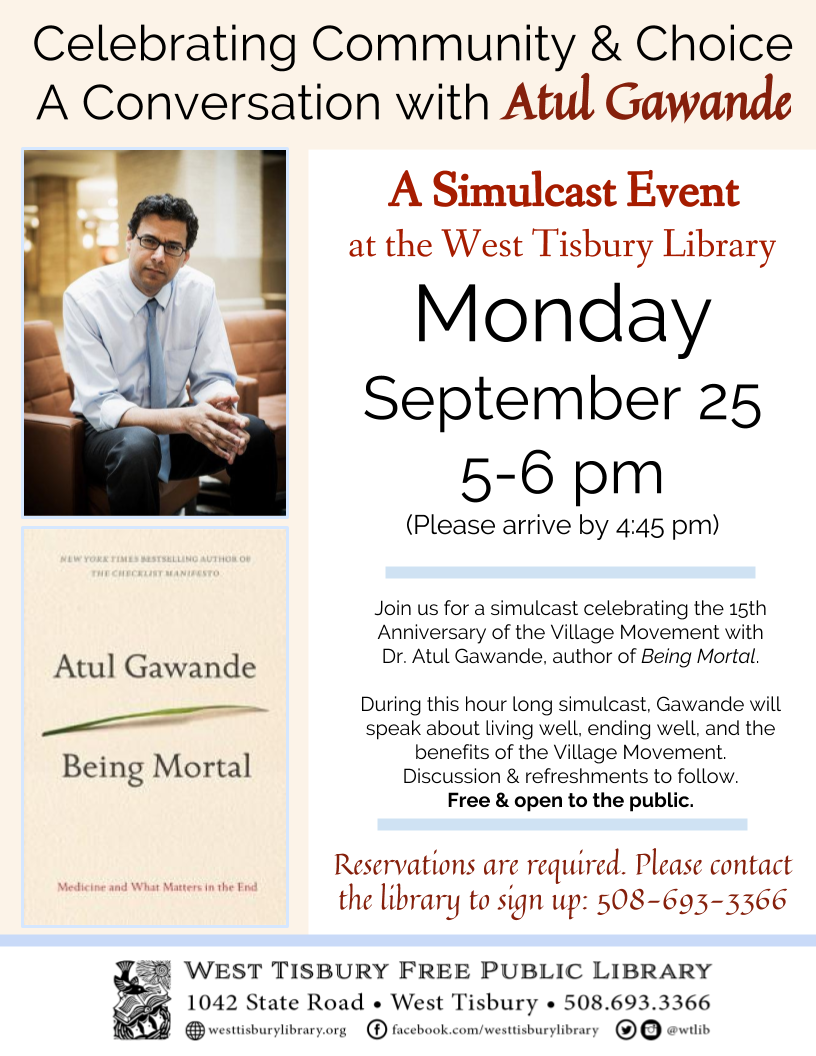 On Monday, September 25th from 5-6 pm, the West Tisbury Library will be hosting a live simulcast event celebrating the 15th Anniversary of the Village Movement with Dr. Atul Gawande, author of Being Mortal. During this hour long simulcast, Gawande will be speaking about living well, ending well, and the benefits of the Village Movement, which creates neighborhood support systems that make aging at home possible. Following the simulcast, join us for refreshments and a discussion led by Vineyard Village's President and CEO Polly Brown & Program Director Lynn Orlando. The simulcast begins promptly at 5pm. Please arrive by 4:45pm. Reservations are required: 508-693-3366. This event is free and open to the public.
Dr. Atul Gawande is a surgeon, public health researcher and writer who practices general and endocrine surgery at Brigham & Women's Hospital. He is also a Professor in the Department of Health Policy and Management at the Harvard T.H. Chan School of Public Health and the Samuel O. Thier Professor of Surgery at Harvard Medical School. He writes for The New Yorker magazine, and is the author of bestselling books, Complications, Better, The Checklist Manifesto, and Being Mortal.