Book Talk with Ronnie Citron-Fink
When:
December 17, 2019 @ 4:30 pm – 5:30 pm
2019-12-17T16:30:00-05:00
2019-12-17T17:30:00-05:00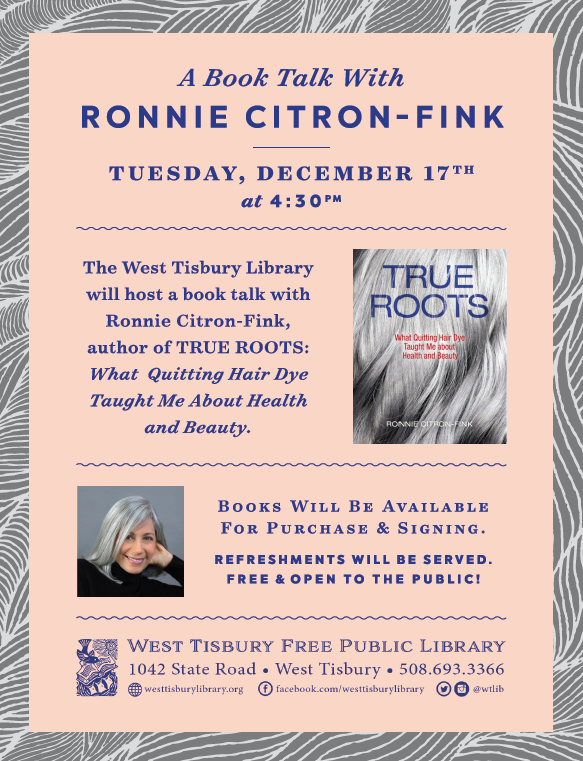 Book Talk with Ronnie Citron-Fink: True Roots
On Tuesday, December 17 at 4:30pm, the West Tisbury Library will host a book talk with author Ronnie Citron-Fink. Ronnie will read from her newest book, True Roots: What Quitting Hair Dye Taught Me About Health and Beauty. This event is free and open to the public. Refreshments will be served.
About the author:
Ronnie Citron-Fink is the author of True Roots: What Quitting Hair Dye Taught Me About Health and Beauty (Island Press, 2019), and is a contributor to A Glorious Freedom: On Being a Woman Getting Older, and Living an Extraordinary Life (Chronicle Books, 2017). She works for the Environmental Defense Fund as the Editorial Director of the Moms Clean Air Force. Ronnie has written for InStyle, USA Today, NPR, and The Vineyard Gazette, among other publications.
About the book:
"After twenty-five years of coloring her hair, Ronnie Citron-Fink took a leap and decided to ditch hair dye. Suddenly everyone, from friends and family to rank strangers, seemed to have questions about her hair.
Like 75% of American women, Ronnie Citron-Fink dyed her hair, visiting the salon every few weeks to hide gray roots in her signature dark brown mane. She wanted to look attractive, professional, young. Yet as a journalist covering health and the environment, she knew something wasn't right. All those unpronounceable chemical names on the back of the hair dye box were far from natural. Were her recurring headaches and allergies telltale signs that the dye offered the illusion of health, all the while undermining it? What are the risks of coloring? Why are hair dye companies allowed to use chemicals that may be harmful? Are there safer alternatives? Maybe most importantly, why do women feel compelled to color?
TRUE ROOTS follows Ronnie's journey from dark dyes to a silver crown of glory, from fear of aging to embracing natural beauty." (Ronnie Citron-Fink)