Book Talk with Herb Foster
When:
July 14, 2018 @ 4:00 pm – 5:00 pm
2018-07-14T16:00:00-04:00
2018-07-14T17:00:00-04:00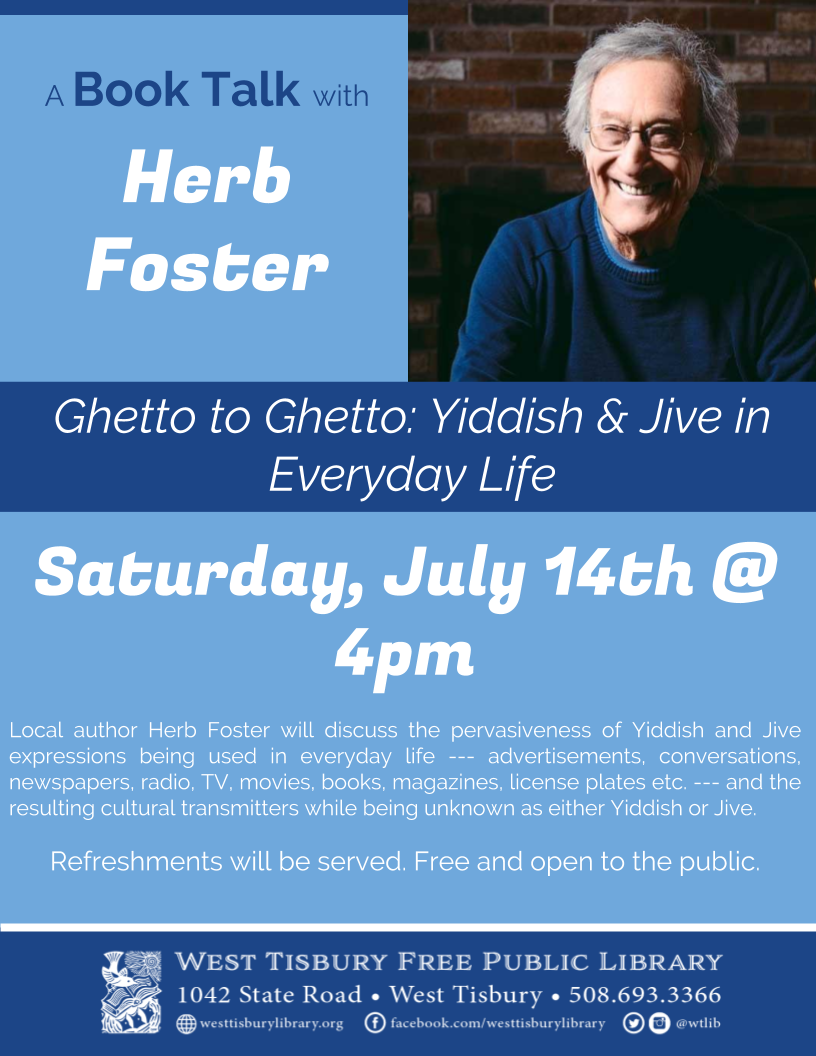 Book Talk: Ghetto to Ghetto: Yiddish & Jive in Everyday Life
With Herb Foster
On Saturday, July 14 at 4pm at the West Tisbury Library, local author Herb Foster will discuss his new book, Ghetto to Ghetto: Yiddish & Jive in Everyday Life. Herb will talk about the pervasiveness of Yiddish and Jive expressions being used in everyday life – advertisements, conversations, newspapers, radio, TV, movies, books, magazines, license plates etc. – and the resulting cultural transmitters while being unknown as either Yiddish or Jive. This talk will cover topics including:
How Yiddish was involved in the election of NYC Mayor Fiorello LaGuardia.

How much Yiddish Former Secretary of State Collin Powell speaks.

What two Presidents were Shabbos goys.

And much more!
This event is free and open to the public, and refreshments will be served.
Herb Foster has spoken and written extensively about Yiddish and Jive. He is a trustee of the Edgartown Library, president emeritus of the MV Hebrew Center, a former 2-term trustee of MV NAACP, a member of the Dukes County Search and Rescue Team until dissolved, a member of American Legion Post #257, and a Boy Scout district member at-large.