Book Talk with Emily Cavanagh
When:
May 26, 2018 @ 4:00 pm – 5:00 pm
2018-05-26T16:00:00-04:00
2018-05-26T17:00:00-04:00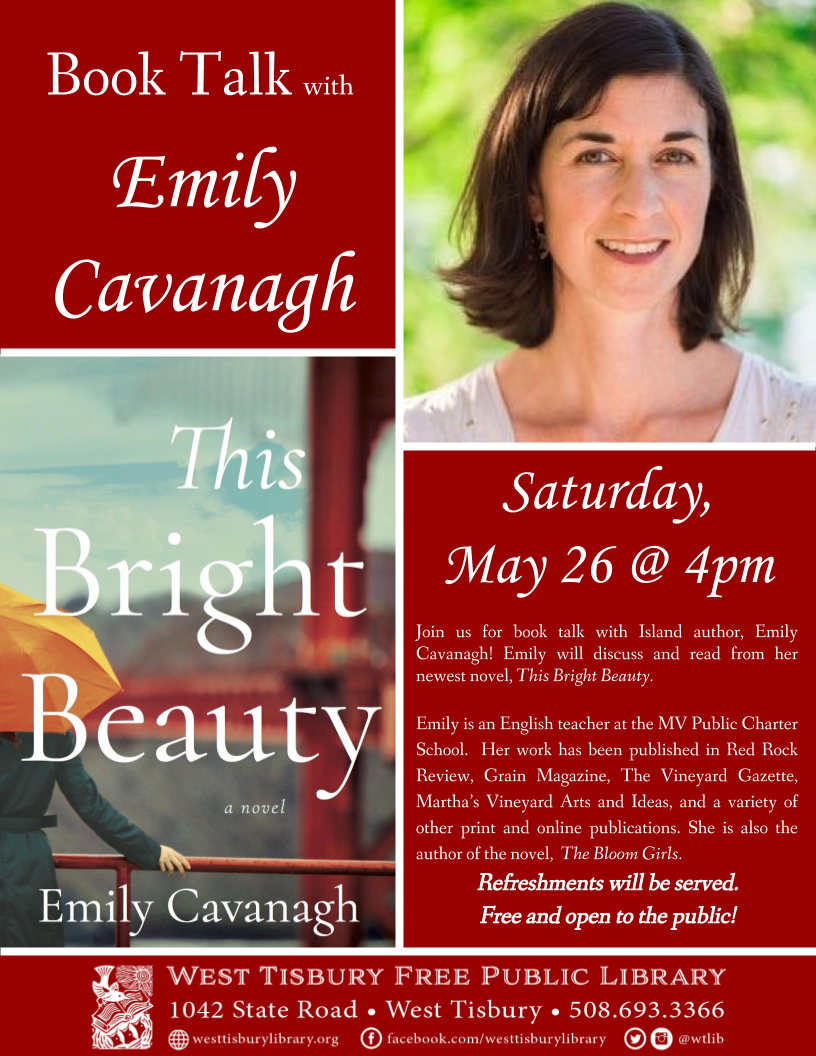 Book Talk: This Bright Beauty with Emily Cavanagh
On Saturday, May 26 at 4pm, join us at the West Tisbury Library for a book talk with Island author, Emily Cavanagh! Emily will discuss and give a reading from her newest novel, This Bright Beauty. Refreshments will be served. This event is free and open to the public.
In addition to being a writer, Emily Cavanagh is an English teacher at the Martha's Vineyard Public Charter School. Her work has been published in Red Rock Review, Grain Magazine, The Vineyard Gazette, and Martha's Vineyard Arts and Ideas, in addition to a variety of other print and online publications. She is the author of This Bright Beauty and The Bloom Girls.

About the book: Franci and Lottie may be identical twins, but that's where the similarities end. Franci has always been the stable one, while Lottie has bipolar disorder, constantly battling depression and mania. After years of taking care of her sister, Franci moves across the country to build a life for herself. Now, all the two share is distance.

But when Lottie gets in an accident, Franci reluctantly steps back into her familiar role as protector. She returns to find her sister's life in complete disarray and makes a shocking discovery: Lottie has an infant daughter she never told Franci about. Although Franci swore she wouldn't get sucked back in, she can't leave the baby alone in Lottie's care.

As Lottie further unravels, a secret is revealed that she has kept since childhood—one that has the power to reframe the sisters' entire relationship, forcing Franci to ask herself if the secret was too much for Lottie to bear. Was the accident really an accident, and who has been protecting whom all these years?