Book Talk with Barbara Conroy
When:
July 25, 2018 @ 4:30 pm – 5:30 pm
2018-07-25T16:30:00-04:00
2018-07-25T17:30:00-04:00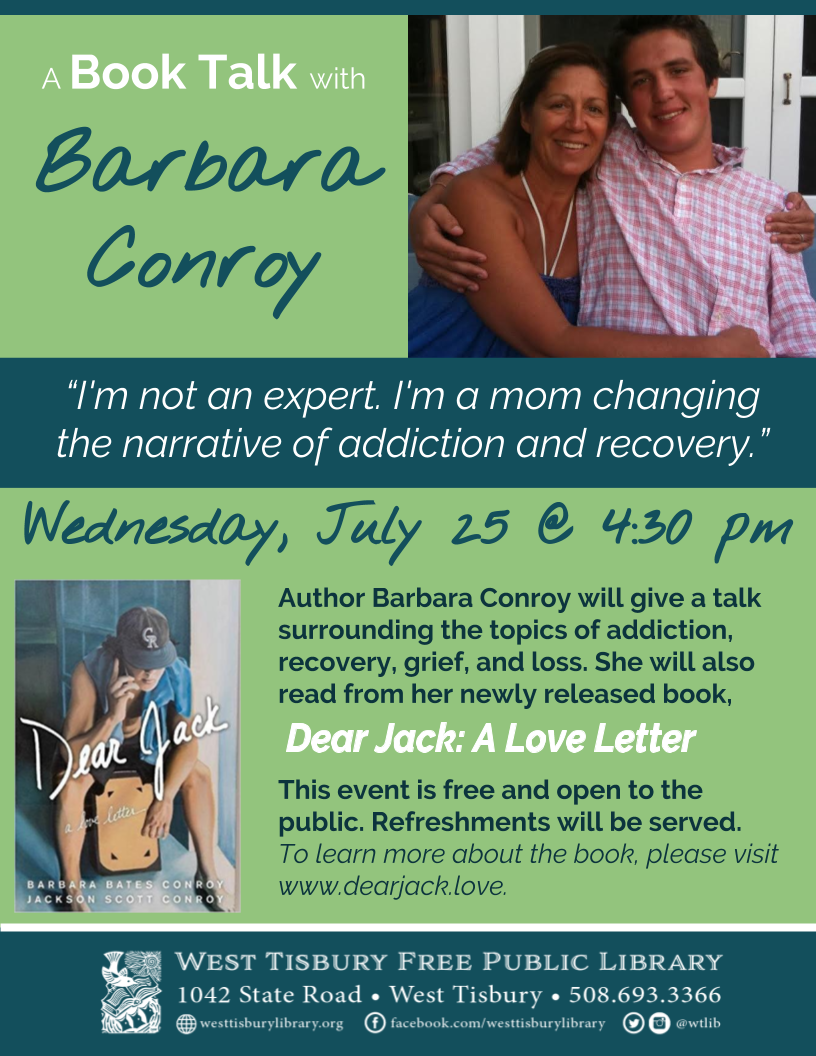 Dear Jack: A Love Letter
Book Talk with Barbara Conroy
On Wednesday, July 25 at 4:30pm, join us at the West Tisbury Library for a book talk with local author Barbara Conroy. Barbara will read from her newly released book, Dear Jack: A Love Letter, and will give a talk surrounding the topics of addiction, recovery, grief, and loss. Barbara explains, "I'm not an expert. I'm a mom changing the narrative of addiction and recovery." Books will be available for purchase and signing. Refreshments will be served. This event is free and open to the public
Barbara Conroy is a mother of five. Sadly, two of her children have left this earth. Barbara continues to seek resources, success stories, healing, and spiritual tools to offer to those who need to connect to themselves and heal.
Jackson Scott Conroy is the subject of the book: "The little boy, who rode a bike at two, caught a shark at five, drove a car at ten, smoked pot at thirteen, got arrested at fifteen, went to rehab at seventeen, went to college at eighteen, went to rehab again at nineteen and again at twenty, died April 1, 2015 at twenty one."
For more information about the book, please visit https://www.dearjack.love/