Art Exhibit & Reception: "Beneath the Barcode"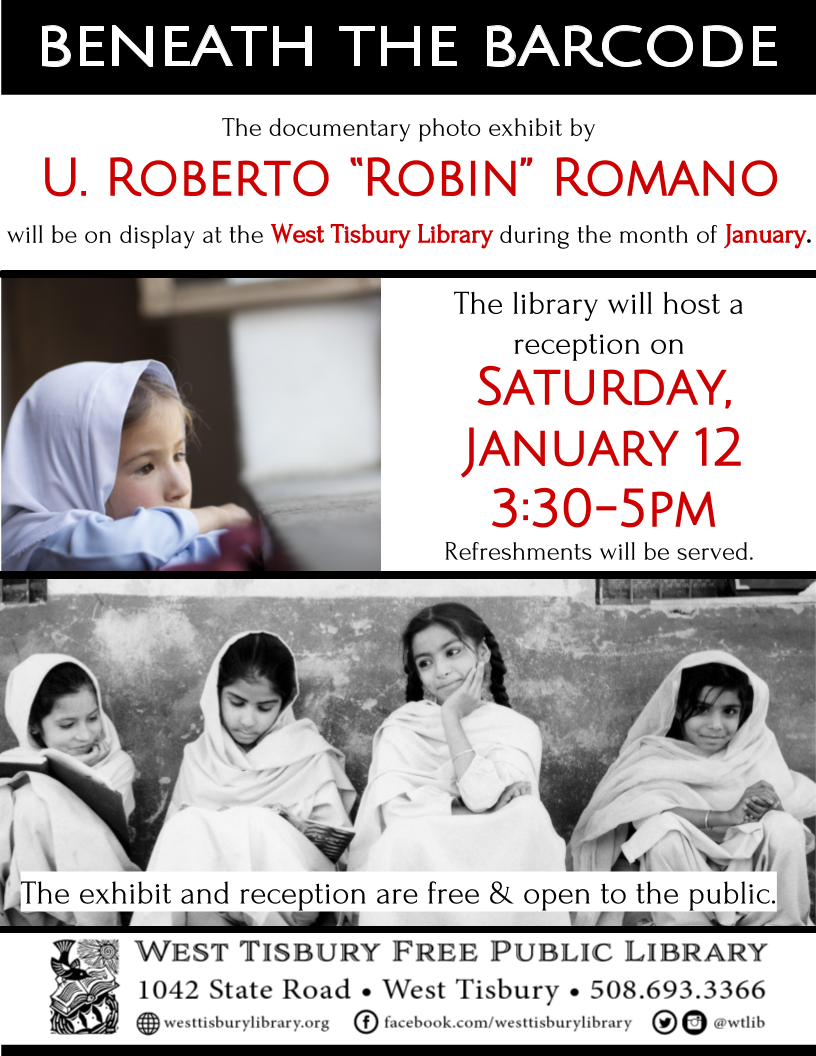 Art Exhibit and Reception:
"Beneath the Barcode" by U. Roberto "Robin" Romano
On Saturday, January 12 from 3:30-5pm, all are invited to an art reception at the West Tisbury Library featuring "Beneath the Barcode," an exhibit presented by the Vineyard-based charity, Media Voices for Children. "Beneath the Barcode" is a documentary photo exhibit by U. Roberto "Robin" Romano, which reveals the face of child labor throughout the world. This exhibit will be installed on January 10th, and will be on display throughout the month. Both the exhibit and reception are free and open to the public.
"Beneath the Barcode" ties the choices we make when we buy food, clothes, electronics, and other goods to their impacts on children at home and around the world. Today, 150 million children work in supply chains instead of going to school,and 75 million are in hazardous/forced labor. The exhibit covers child labor in American agriculture, cocoa, coffee, tobacco, electronics, carpets, access to education and the impact of inequality on children.
Media Voices for Children is a Island-based 501(c)3 educational charity that makes films on child labor and rehabilitation. Their most recent project was "Children of Bal Ashram," featuring rescued child laborers and their path to activism. They also directly support former child laborers in boarding school in Kenya through their long-running Kenyan Schoolhouse program, advocate for children in Washington, D.C. as part of the Child Labor Coalition, and operate the Media Voices for Children website with video, still photographs, reports, and other resources on children's issues.
U. Roberto ("Robin") Romano traveled the world to document the human face of child labor through photographs, films and interviews. From coffee plantations in Africa, to factories in Asia, to farms in Latin America, he made it his life's work to raise awareness and call for action and accountability. Romano worked in partnership with Len Morris for thirty years, and was a co-founder of Media Voices for Children. The photographs in "Beneath the Barcode" were drawn from the Romano Collection at the Thomas J. Dodd Research Center at the University of Connecticut. Robin Romano passed away on November 1st 2013.