Acrylic Painting Workshop with Jennifer Burkin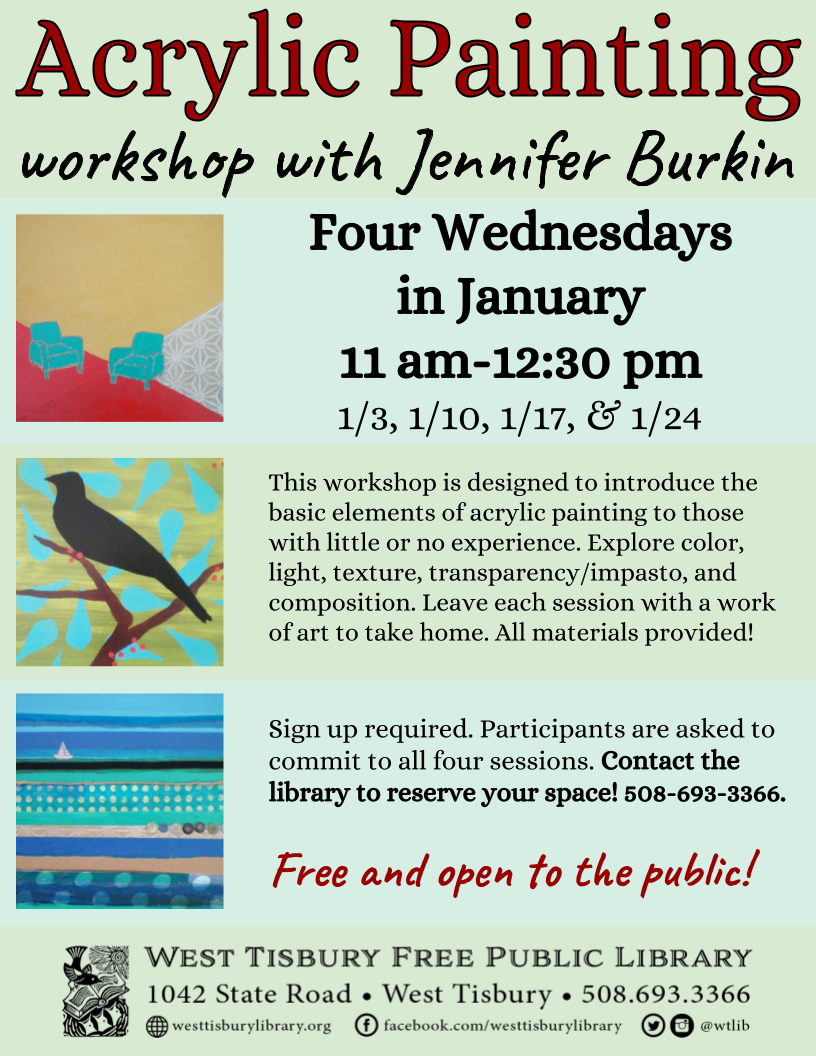 Launch into the new year with creativity and color! Beginning Wednesday, January 3rd from 11:00 am-12:30 pm, artist Jennifer Burkin will lead a four week acrylic painting workshop at the West Tisbury Library.
This workshop is designed to introduce the basic elements of painting to those with little or no experience. Participants will work with acrylic paint and explore the many ways paint can be handled. Learn about the preparation of materials and exercises on exploring color, light, texture, transparency/impasto, and composition. Participants will develop an understanding of the painting medium and translating concepts into visual images. Demonstrations of different techniques will be given, including some mixed media. Participants will be helped on an individualized basis, and will leave each session with a work of art. Refreshments will be served. Free and open to the public.
All materials will be provided. Sign up is required, and participants are asked to commit to all four sessions: 1/3, 1/10, 1/17, 1/24. Please contact the library to reserve your space! 508-693-3366.
Jennifer Burkin is both an artist and art educator. Jennifer has a Master's degree in elementary art education from Tufts University in affiliation with the School of the Museum of Fine Arts, Boston. Additionally she has a Graduate Certificate from Harvard University in Museum Studies. She grew up in Brookline, MA and now lives on Martha's Vineyard where she continues to make art, sell her artwork, and teach art.
Jennifer paints with acrylics and adds in handmade papers, found objects, etc, turning many paintings into mixed media pieces. Her subjects are largely domestic, many pieces are in fact of her own dog. Other images of domesticity are kitchen utensils and children's and women's clothing. She frequently paints and collages images of birds as well.