A Talk with Crocker Snow – "Two Bedtime Stories: Muskeget and Nantaska"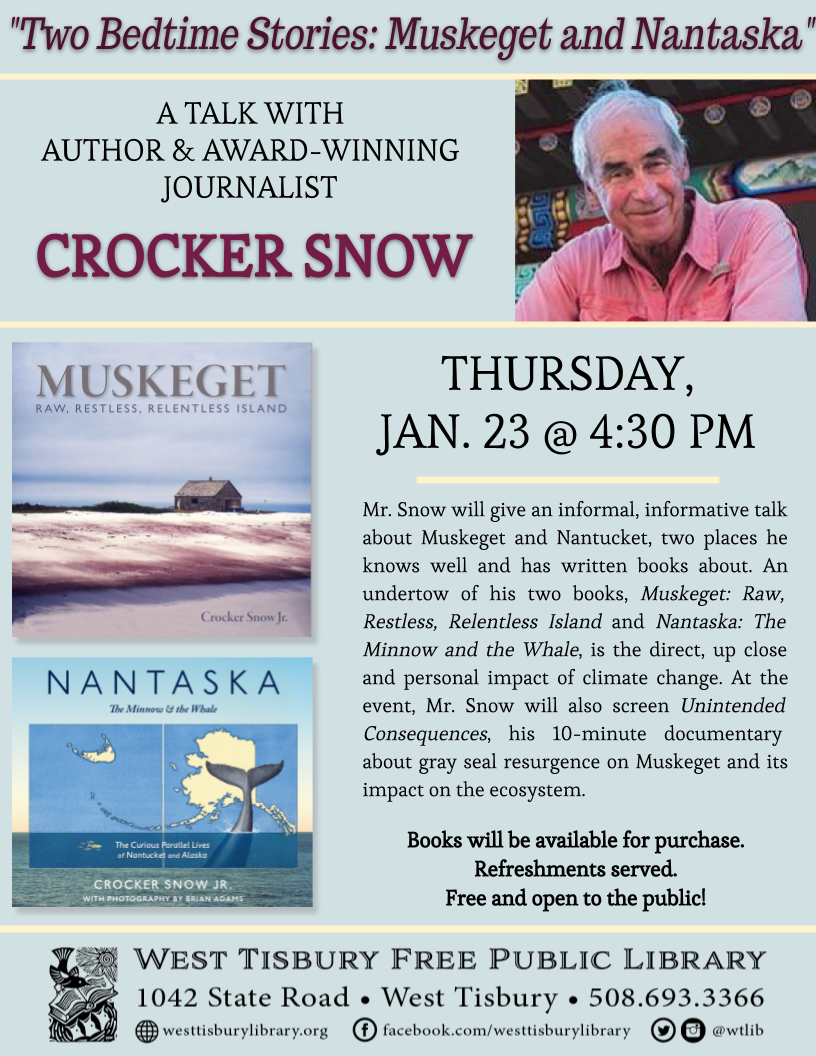 "Two Bedtime Stories: Muskeget and Nantaska"
A Talk with Crocker Snow
On Thursday, January 23 from 4:30-5:30pm, join us at the West Tisbury Library for a talk with Crocker Snow, author and award-winning journalist. Mr. Snow will give an informal, informative talk about Muskeget and Nantucket, two places he knows well and has written books about. An undertow of his two books, Muskeget: Raw, Restless, Relentless Island and Nantaska: The Minnow and the Whale, is the direct, up close and personal impact of climate change. At the event, Mr. Snow will also screen Unintended Consequences, his 10-minute documentary about gray seal resurgence on Muskeget and its impact on the ecosystem. Books will be available for purchase and signing. Refreshments will be served. This event is free and open to the public.
About the speaker:
Award-winning journalist Crocker Snow has traveled the world for fifty years as a foreign correspondent and editor. His reporting from Germany earned an NPR radio documentary prize and his writing on Japan and the Vietnam War earned Pulitzer Prize nominations by The Boston Globe.
Snow founded The WorldPaper, a monthly report of international affairs. He was also the Director of the Edward R. Murrow Center at the Fletcher School of Law and Diplomacy specializing in post 9/11 Middle East politics and the global impact of climate change in the warming Arctic.
Against this foreign policy background, Snow has turned his focus—and passion—back home to the natural world, initially to tiny, uninhabited Muskeget island, halfway between Nantucket and Martha's Vineyard, that he first set foot on at age nine.
His 2015 book, Muskeget —Raw, Restless, Relentless Island, is a wake-up call to how vulnerable our immediate surroundings are and how fleeting the species that inhabit it can be.
Snow's latest book Nantaska: The Minnow and the Whale with Inupiaq photographer Brian Adams focuses some surprising parallels between Nantucket and Alaska. He uncovers some surprising connections starting with whaling in the 19th century, rich creative arts, sense of community, the simultaneous explosion of tourism, and the corresponding challenge of climate change today.
Snow lives on a farm in Ipswich, MA. He has five well-scattered sons, and fulfills his lifetime interest in horses as the coach of the Harvard Polo Team.