A Brief History of West Tisbury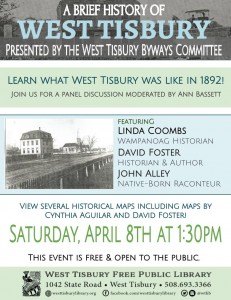 Learn what West Tisbury looked like in 1892! Join us at the West Tisbury Library for a special event highlighting the history of our town. On Saturday, April 8th at 2pm, the West Tisbury Byways Committee will share a presentation about the history and look of our town at the time of its incorporation in 1892. This presentation includes a panel discussion with  MVTV's Ann Bassett in conversation with Linda Coombs, Wampanoag Historian; David Foster, Historian and Author of Martha's Vineyard: A Meeting of Land and Sea; and John Alley, Native-Born Raconteur. Doors open at 1:30 for a viewing of several historical maps.
This presentation was inspired when committee member, Cynthia Aguilar, became fascinated with the history of what our town looked like in 1892. Through her research, she charted a map of what the town looked like back then. This presentation will showcase Cynthia's fine work, offer historic outlook, and inform people about Byways and the importance of their preservation. Several historical maps will be displayed including a map by Mr. Foster and of course Ms. Aguilar's map of 1892. Refreshments will be served. This event is free and open to the public.