Christmas by the Book
By West Tisbury Library's Connie Berry
[click any hyperlink or book cover to place a hold on that item]

Children's librarian Nelia Decker put a beautiful snow globe on the circulation desk downstairs, and it started me thinking about the upcoming December holidays. Mostly it made me think of the Monster Cookie recipe I've carried with me for the past twenty years. I usually fill big glass jars full of them to give to neighbors at Christmastime. I have to mix the cookie dough in a huge pot usually reserved for pasta or the occasional lobster. The recipe includes two bags of chocolate chips and two huge Hershey bars, which my grown children take pleasure in hammering to bits for me. I won't regale you with the number of sticks of softened butter it takes to make them.
Anyway, it's beginning to look a lot like Christmas around here, and we've got all kinds of books and movies to get you in the mood. The library has a great selection of Christmas movies for borrowing. Whether you're a fan of the 1947 version of Miracle on 34th Street or A Charlie Brown Christmas, we've got you covered. And if you look behind Nelia's desk in the children's room, you'll find plenty of holiday children's books. You should see her well-worn copy of The Night before Christmas, the book itself looks like it has a story to tell. She also has a beautiful version of the Nutcracker, with words by E.T.A. Hoffmann and pictures by Maurice Sendak. There are children's books about Hanukkah and Kwanzaa as well.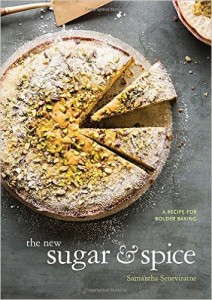 I've been looking through the library's cookbooks again, in search of a little something to go with my Monster Cookies. After poring over a half-dozen books with sugary recipes, I came upon a winner that I can't wait to try: Frozen Eggnog Pops. It appears that I can cut the heavy cream and egg yolks with a tablespoon of bourbon and dark rum. You can find this little gem in The New Sugar & Spice: A Recipe for Bolder Baking by Samantha Seneviratne.
I like to get myself a little something for the holidays, but between the old movies I love to watch, that copy of A Tree Grows in Brooklyn downstairs, and the zillions of cookbooks on the main level, I see no reason to go shopping for myself this year. I can find everything I want without ever leaving the library.
Don't forget our annual Holiday Party on Dec. 19, from 4:30 to 6:30 pm. Not only will you have an opportunity make your own evergreen swag, but you'll also love the refreshments and the music by the Vineyard Classic Brass Band. The holidays are for getting together after all, not just about monstrous cookies and frozen libations.