Author Talk with Michael Ross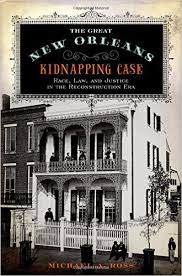 Author Talk with Michael Ross
On Saturday, June 24th at 3:30 pm, University of Maryland Professor Michael Ross will bring to life his latest work, The Great New Orleans Kidnapping Case: Race, Law and Justice in the Reconstruction Era (Oxford University Press).
Learn the role America's first famous African-American detective played in solving the infamous Digby Kidnapping Case in Reconstruction-era New Orleans. The case electrified New Orleans and the South at one of the most critical moments in the history of American race relations. 
Refreshments served. This event is free and open to all!